Guess who's back?!
I finally got Idris out of the hospital. Oh how I missed my baby *kisses screen* They had to give me a new hard drive. Let's pray that I never suffer through this type of ordeal again.
I am currently super sick (and no it is not the Swine Flu...well, I hope it's not the Swine Flu). I know I have the sniffles pretty bad and my throat is hella dry and my body is weary. When I find out who got me sick, I'm throwing a rock at them. I really don't feel good but since I have all this extra time laying in the bed, trying to heal, I figured I might as well hit ya with a blog.
I figured I'd share with you a few of my favorite things, so here goes:
My Favorite Angel in Heaven
Last Friday, April 24th, marked what would have my been my grandmother's 80th birthday. The next day, Saturday April 25th, marked the 2nd anniversary of her passing. I have basically dealt with my grief of losing her as best as I can, but the day of her birthday, suga was slightly sad. I just missed the little things, like kissing her on her cheek every time I greeted her or said good bye. Or hearing her laugh. Or listening to her call me an "old maid". My eyes filled with tears a few times but over all, I felt ok. I wore her favorite color, green, on both Friday and Saturday, and I reminisced on the fun times and how much of an influence she was in my life.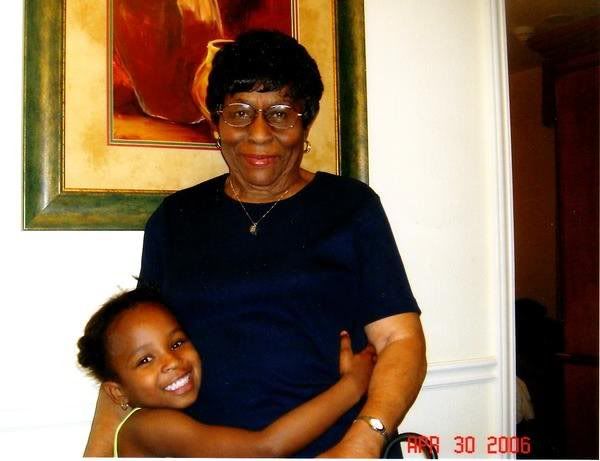 Oh how I love that woman!
My Favorite Girls
My girl Nikki flew in from Long Beach for Easter, which meant all of my girls in Northern Cali (Amber, Kameelah, Kelley, LaRoux, Rasheeda) had to congregate. We ended up having a great time with each other.
This past weekend, my friend Jamilah flew in from Dallas (by way of Hawaii) and my friend Kelley also happened to graduate. So of course, most of my girls (the ones who live in Northern Cali) all decided to get together for a night out on the town. Because we are so spread out, this doesn't happen often, so we always happen to have a great time. I haven't had that much fun without alcohol in my system in ages.
It makes me wonder how different life would be if we all lived in the same city, or if we have so much fun because we make the most out of the few times we get to see each other during the year. All I know is that I love the girls, and I'm going to have to devise some sort of plan to get us living in the same place so our kids can grow up together.
My Favorite Guy
TLOML is acting right. Can you believe it? I surely can't. Well, I can but it's still shocking and kind of unbelievable lol
We went to church for the first time together on Easter, which was a huge deal since we are of two different religions, which has been a big division within our relationship. Imagine my surprise when he called me and asked if he could go to Easter service with me. I almost fainted in the kitchen. AND...he actually enjoyed service.
When we first met, we would get into arguments about our spiritual beliefs all of the time (he called them debates but I've never had the urge to slap somebody during a debate, so I call them arguments). And it didn't help that he used to be a minister in his religion (meaning he knew way more than I did about The Word) and I hadn't been to Sunday school in years (I can't wake up in time for Sunday School...sorry lol) and I only hit up Bible Study sporadically. He would always send my blood pressure up whenever we broached the subject of God/Jesus or church or me being Baptist, so I eventually stopped talking to him about it. That was hard, especially since I used to be extremely active in ministry.
I think I may blog about differing religions within relationships soon. Seems like an interesting topic.
But, anyway, things are going quite smooth for me and the boo. I'm still halfway waiting for something spectacularly ridiculous to happen (that isn't good, is it?), but I'm allowing myself to enjoy it for now.
And he just let me know that we're going to see Bilal perform next month. I'm super excited!!!!!
Favorite Misc Things
So ya'll know I've been on this healthy lifestyle change kick, right? I started out on a particular diet that was super strict and began working out everyday (sometimes twice a day) and the lbs started coming off. There was one week where I got extremely frustrated with my weigh in results, so I stopped the diet that I was on, and promised myself that I would just watch my portions and try to just stick to fruits, veggies, and a small portion of meat a day. So far, so good. My girls noticed how much I've slimmed down, and TLOML couldn't stop commenting on how much I've changed in the last few weeks (he is very upset that I am losing my ba-donk-a-donk tho...he actually pouted lmao)
If you follow me on twitter or I'm on your facebook friends list, you probably know that I am slowly becoming addicted to exercise. I LOVE IT! I know people may think I am a wierdo, but cardio makes me feel good. It's totally changed my attitude toward life and I'm not as lazy as I used to be. I've started a routine of working out twice a day (before work and an hour after I eat dinner) on week days that I don't work at the book store, and I work out once a day during the weekend and on the days that I do have to work at the bookstore. I rest one day during the week. In addition to that, I plan on joining a boot camp in the middle of May, and I'll be starting a Pilates class and a spinning (cycling) class soon. All I need is a kickboxing course and I'll be good to go.
suga will be
skinty
by the summer time....I promise.
One of my favorite places to work out
I recently started running around Lake Merritt in the middle of Oakland, which is 2-3.5 miles depending on which route you take. I take the longest route. I love the views, especially when the sun is setting and the lake lights up. There is a lot of construction going on around this area, but it's still my favorite work out locale.
And what makes it even better?
These stairs
(they end at the very top of the picture)
Before I run, I usually do two sets of these stairs. Starting where those 2 people are standing in the picture, there are 106 of them. I feel like death is knocking on my door when I do them twice, which sucks because back when I was in shape (many, many moons ago) I used to run up and down 10 times, and then run the lake in under and hour lol But, I'm building up my endurance. Hopefully next week, I'll be up to doing the stairs 3 times.
Favorite Healthy Foods


I have fallen in love with mangoes, baby apples, honey dew melon, kiwi, watermelon, pineapple, cantaloupe, and tangerines. I am desperately waiting for peaches and nectarines to come into season.
As far as veggies, I love asparagus, squash, brocolli, spinach and mushrooms, all steamed. And for snacks, raw cauliflower dipped in low fat dressing is delicious and sliced cucumber or tomatoes with a tiny splash of vinegar (got that from my grandma) are devine.
What are your favs?
Favorite Beauty Regimens:
Two weekend ago, I declared April 18th my Beauty Day. I'd been neglecting myself lately, so I decided to do the works: mani/pedi/eyebrows (wanted to get a facial but I procrastinated) and a day of shopping for only beauty products. Of course I went on down to Sephora and had a grand 'ol time. My favorite item:
The Sephora Color Play Palette
36 eyeshadows
12 lip colors
3 blushes
1 bronzer
I love this so much that sometimes I carry it in my purse (and my friends Latisha and LaKeisha clowned me for it but i dont care because my color palette is the bomb.com and is becoming my new BFF). The eye shadows match radiantly with my skin and the lip colors POP!
Do yourself a favor and get one of these to add to your make up collection. It's only $22. I try to minimally wear make up and usually only apply it on the weekends, but this kit has me wearing blush just when I need to go get soy milk from the store. It makes me feel oh so pretty.
Another favorite
:
This smells SUPER delicious. SERIOUSLY.
Bigelow's Lemon and Pomegranate Body Wash and Body Cream
(they have a Lemon & Lime scent as well)

I went to Bath & Body Works just to browse. I'm more of a regla', drug store lotion type of gal, but when I sniffed this, visions of summer dresses and classy flip flops danced in my head. This is the perfect scent for lwarm, lazy days, romantic picnics, and afternoon dates at the coffee shop. I went to visit TLOML one evening with the lotion on, and even though he couldn't breathe due to allergies, he almost turned into a vampire on my neck...thats how delicious the scent is lol And what woman doesnt want to smell delicious?
But if you're not in to the fruity scents, I also have a fav body wash and lotion set to suggest. Dove products are really great. Recently, I purchased a Dove gift set that came complete with the lotion, body wash, soap, and deoderant for $10...from Tarzhay, of course!
The
Cool Moisture Cucumber & Green Tea
scent is light and airy, and the lotion feels oh so refreshing. It makes your skin tingle. They have a body spray, as well. I dont know if the $10 deal is still going on, and Dove doesn't come cheap, but check it out if you're looking for a new body wash/lotion combo.
Favorite Accessory
Sunglasses are a spring/summer staple in my life. They are indeed my favorite accessory when the weather starts to heat up (flip flops come in a close 2nd). I wear them everywhere, even when I go jogging so I can stare at crazy people with the "wtf face" and not get stabbed. I don't spend top dollar on them, though, because I lose sunglasses every other week, so you'll find me paying just $10-$15 a pair at H&M or Forever 21. In the last month, I've acquired 3 pair and lost 1...cant wait to add more.
What is your favorite spring/summer accessory?
I wanna thank the readers who have stuck with me during my absence, and those who emailed me and sent msgs thru other social networks to check up on me. And a special shout out to those who decided to browse the archives while I couldn't post. I hope you enjoyed my antics!
Ta-ta!
(You should have known this would be a long one. I haven't blogged in forevah)